Bipartisan Coalition Explains How Prop 54 Will Bring Transparency to the State Capitol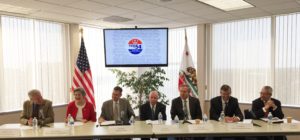 September 14, 2016 – Yesterday, members of the bipartisan coalition supporting legislative transparency shared their views about why they believe Prop 54 is good for all Californians during a press briefing held in Sacramento.
The Prop 54 Coalition members who participated as panelists during the event were Derek Cressman, Campaign Manager for California Common Cause; Helen Hutchison, President League of Women Voters/California; Jim Mayer, President and CEO, California Forward; Tom Scott, State Executive Director, National Federation of Independent Business/California; Dan Carrigg, Deputy Executive Director, Legislative Director, League of California Cities; David Kline, Vice President of Communications and Research, California Taxpayers Association; and Dan Kolkey, former appellate justice, and principal draftsman of Prop 54.
"When it comes to legislative transparency, these groups align," said CalForward President and CEO, Jim Mayer. "This is a bipartisan issue."
During the briefing, panelists provided insight into how a 72-hour waiting period on proposed laws will stop last minute gut and amends from being rammed through the process and passed in a matter of hours; how other legislative gimmicks such as "ghost voting" and "vote changing" cut voters out of the legislative process; and how video recording and posting online every public meeting and allowing voters to record and share their own recordings will help to level the playing field so that all voters have a chance to weigh in on policies that impact them.
"The League of Women Voters supports Proposition 54 because the more people participate in the legislative process, the stronger our democracy will be," said Helen Hutchison, President of the League of Women Voters of California.
All agreed that the public has every right to know what's in a bill before it's signed into law.  But under the current system, the voters are far too often kept in the dark.
"Prop 54 offers a common sense solution to these problems by creating a more open, honest, and accountable government," said Derek Cressman, campaign manager for Common Cause California.  "It will empower the public to participate and have their voices heard in our political process."
#  #  #